Glue sticks 8 packs of 12= 96 quality glue sticks to suit glue gun 7.2 mm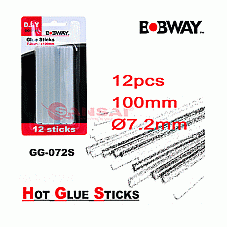 8 packs of 12= 96 glue sticks
Pack includes 12 transparent multi purpose acid free glue sticks for thumb actuated glue guns.
+ Glue sticks measure: Ø 7.2mm x100mm
+ Hot Sealed Packed, 12
+ Ideal for use around the home - great for sticking wood, leather, fabric, cork, plastic materials, cardboard and more.
8 packs of 12.