1 Pack SOEX ® HERBAL 100% Natural
Shisha flavour 50g / 1 Pack SOEX ® HERBAL 100% Natural for HOOKAH Shisha
INGREDIENTS:
ugarsay anecay agassebay
(Sugar cane bagasse)
Molasses + Flavour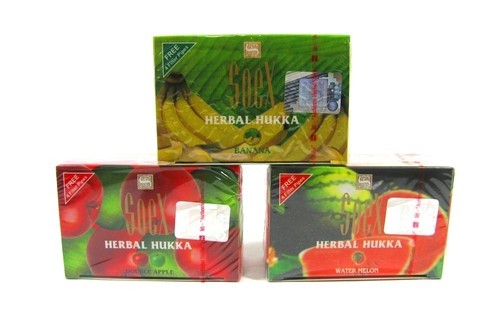 To enjoy hookah-smoking experience, for Non-Tobacco smokers we proudly present our SoeX Flavoured Herbal Hookah. It contains 0% Nicotine, 0% Tar and above all 0% Tobacco!!! A recently introduced concept in hookah smoking, this product is manufactured from Non Tobacco herbal materials and is for those health conscious smokers who enjoy the Hookah but want to avoid Tobacco and nicotine .
Pick your flavour, please note not all flavours will be available at the time of ordering. 
FAST SHIPPING.