Pet Dog Cat Nail Grooming Care Grinder Trimmer Clipper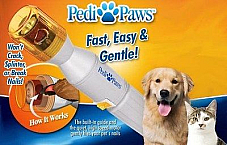 Pedi Paws is the newest and fastest way to keep your pet's nails trim rounded and smooth with no mess!

Now you can easily trim your pet's nails anywhere without the pain caused by traditional nail clippers.
The unique protective cap allows only the perfect amount of nail to be removed and contains all the filings so
there's no mess!
The secret is Pedi Paws precision emery filing wheel that gently removes thin layers of the nail to leave you pet's paws
soft and your home safe from scratches.
Pedi Paws Features:
Pedi Paws eliminates the hassle of nail grooming
Pedi Paws won't crack, splinter or break your pet's nails
Pedi Paws features smooth rotary action & a protective guard
No pain nail trimmer for both dogs and cats of any age or size
Precision emery filing wheel gently removes thin layers of nail
Unique protective cap contains clipped filings to prevent mess!
Battery powered: Requires 2 "C" Batteries (not included)
Package Includes:
Brand New in retail packaging
1 x Pedi Paws Pet Nail Trimmer
3 x spare Emery Pads
1 x User Manual
Fast shipping